09 May 2020
BY: Sunny Jaspal
Acupuncture / Blog / Conditions
Comments: No Comments
Back pain? Stiff neck? Painful shoulders? These problems seem to be affecting many people now, and it is no surprise. As many attempt to work from home due to coronavirus your desk set-up may be less than perfect. A combination of poor posture, incorrect desk set-up and insufficient breaks all lead to pain.
You can read about the correct ergonomics for desk work in a blog I wrote about acupuncture, massage and posture for neck, shoulder and back pain. If you work from a laptop and do not have a laptop riser, why not use a stack of books to raise your screen up to eye level? If you can, invest in an external keyboard and mouse if using a laptop. A height adjustable chair is also important.
There are two acupuncture points which I find vital for neck and back pain, and both can be massaged by using a tennis ball, or other hard ball. GB20 Fengchi and GB21 Jianjing:
GB20 Fengchi is located below the occipital bone, in the depression between the sternocleidomastoid muscle and trapezius muscle.
GB21 Jianjing is located at the highest and most tender point of the shoulder, between the spine and tip of the shoulder.
To use acupressure on these points, lean back against a wall with a tennis ball between you and the wall (see image at top). Push gently, release and repeat. To access GB21 start by standing side on and leaning into a wall and tennis ball. Then roll the ball down the back by turning 45 degrees. You can apply static pressure or roll on the ball, but do not roll on the spine.
Yoga postures I often recommend for back pain are Cat Pose and Cow Pose. If you're used to yoga, you can flow from one into the other and repeat as many times as you like, articulating through each vertebra as you transition.
I hope these tips will help you to manage any pain you are experiencing. Do you want more advice on this issue? I am currently offering online appointments via Zoom. Contact me to find out more.
22 Apr 2020
BY: Sunny Jaspal
Acupuncture / Blog
Comments: No Comments
ONLINE ACUPUNCTURE: ACUPRESSURE, DIET, EXERCISE AND LIFESTYLE ADVICE
Acupuncture without needles?

Acupuncture is more than the insertion of needles. It involves a diagnosis based on your symptoms and the acupuncturist's observations. From this basis we formulate an acupuncture point prescription plus specific dietary, exercise and lifestyle advice.
Online acupuncture sessions will consist of the above, with the acupuncture point prescription being demonstrated by me and administered with acupressure and massage.
The virtual session was so much better than I imagined and the way you explained everything was so clear. I have already started with the massage techniques and the yoga and there already seems to be a small improvement.

Feedback from Joanne Moore
You can find out more about online acupuncture treatment here, including information on fees and concessions.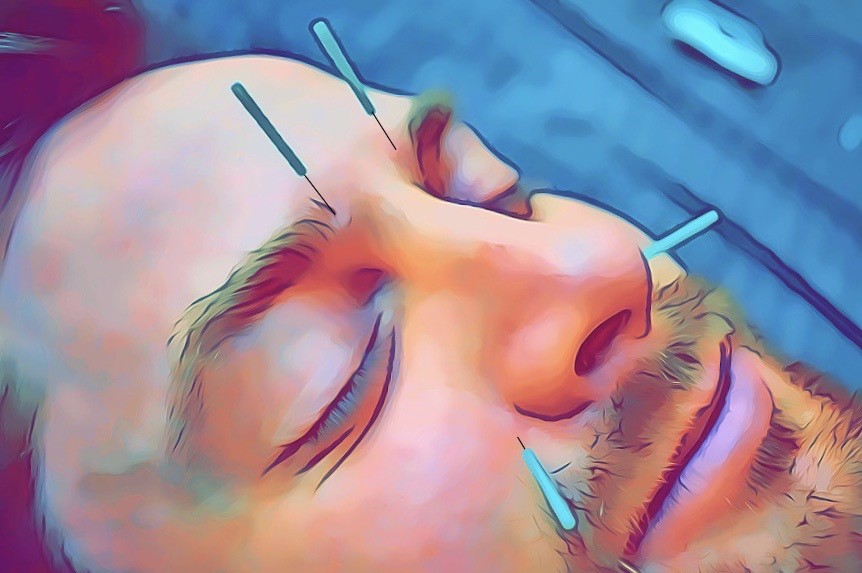 06 Apr 2020
BY: Sunny Jaspal
Acupuncture / Blog / Conditions
Comments: No Comments
Coronavirus may be stalling our lives somewhat, but nature continues to bloom into spring. As it does, the pollen count rises and back come the symptoms of allergic rhinitis. Many of you have asked about acupuncture for hay fever, so here are some points you can use with acupressure.
It's worth noting that hay fever can be very stubborn, so if you find this treatment unhelpful, please do not despair. Come along for an acupuncture treatment when things return to normal, as it's a stronger intervention than acupressure as so more likely to bring relief.

I have briefly covered this topic already. You can read more about allergic rhinitis and acupuncture here. Please note that as well as having a course of acupuncture when the symptoms arise, you can have treatment in the winter months to strengthen the body in preparation for the following season.
There are many acupuncture points we could and these depend on your presenting symptoms and underlying health. However today we will cover a few general points to help with the symptoms of itchy eyes, runny nose or congestion, headache and sore throat.
Each of these points is located bilaterally (on both sides of the body). When using acupressure (finger pressure) please follow these instructions:
Apply downward pressure to the point with thumb or finger for a few seconds. Release and then reapply as many times as you would like. Be sure not to hyperextend the thumb or finger joints.
BL2 Zan Zhu is located at the medial end of each eyebrow. A great point for redness, pain and swelling of the eye.
LI20 Ying Xiang is located at the midpoint either side of the nostrils, in the nasolabial groove (the line than forms when you smile). Great for congestion and sneezing.
LI4 He Gu is located on the hand between the thumb and first finger Squeeze these together and at the highest point of the bulge of muscle you will find this point. Useful for painful swelling and reddening of the eyes, sore throat and headache.
LR2 Xing Jian is located on the feet between the first and second toe, half a thumb's width from the margin of the web. For red swollen and painful eyes and throat pain.
Questions? Comments? Please contact me: hello@sunnyjaspal.com