BY: Sunny Jaspal
Acupuncture / Blog / Conditions
Comments: No Comments
According to Traditional Chinese Medicine (TCM) theory, premenstrual tension (PMT) also known as premenstrual syndrome (PMS) in the time leading up to your menstrual cycle may be caused by stagnation of Qi. Here are some tips to move your Qi and prevent mood swings, irritability, breast distension and bloating:
Exercise: anything you enjoy – yoga, Pilates, qi gong, swimming, running – to move your Qi and clear stagnation.
A balanced diet: avoid caffeine, alcohol and sugary foods which may cause peaks and troughs, exacerbating mood swings and irritability. Limit salt intake to prevent bloating. Eat plenty of fresh fruit and vegetables and 'pungent' foods such as basil, coriander and peppermint. Ensure portion sizes are not too big and chew your food thoroughly!
Complementary therapies such as massage, reflexology or acupuncture: If you feel like the tips above are not working you may need a helping hand. Massage works in a similar way to exercise, moving Qi when it may be stuck. Tell your practitioner if you have any pain. Abdominal massage may be particularly beneficial at this time. Reflexology and acupuncture work on the meridians of the body to move Qi.
Remember that PMT is not always caused by Qi stagnation. If you feel like the above tips are not helpful or make you feel worse, seek the advice of a TCM practitioner.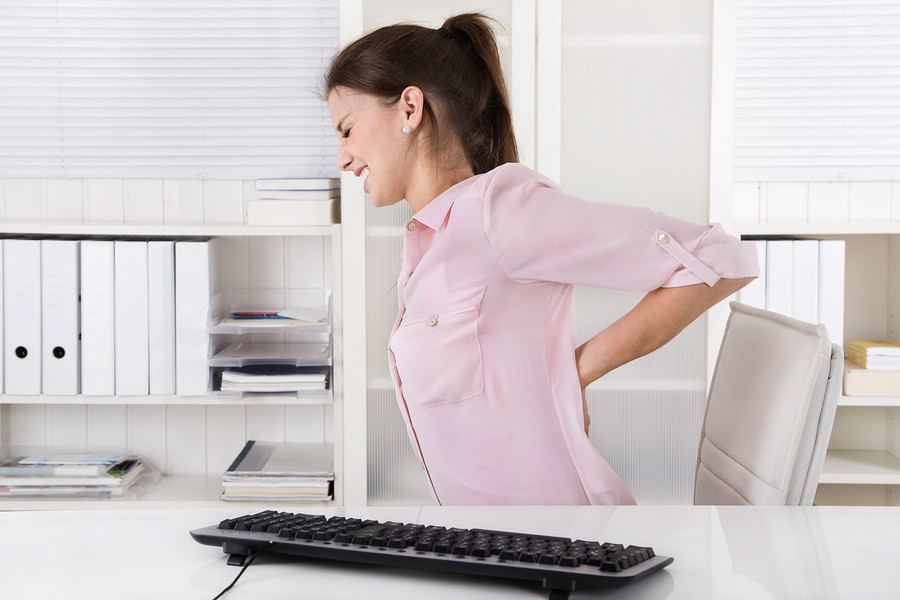 08 Sep 2015
BY: Sunny Jaspal
Acupuncture / Blog / Conditions / Massage
Comments: No Comments
One of the most common complaints people seek treatment for is back pain, shoulder pain and neck pain. In fact more sick days are taken due to pain than any other ailment. Why do so many of us suffer with these conditions and what can we do to manage and prevent them?
Many of the people I treat are office workers, often sitting for long hours and working at computers. Poor posture, poor office ergonomics and working without breaks is a recipe for pain. This type of injury is often classed as a repetitive strain injury (or RSI) and may also include the hand, wrist, forearm and elbow. These problems may arise in any situation (not just at a desk) where bad posture is sustained.
Back, shoulder or neck pain can also be caused by depression, anxiety and stress. Sometimes there is no clear cause of pain. However, it still remains a very real problem that needs treatment.
Tips for Easing Pain
Maintain correct sitting posture when working at your computer.
Ensure the top of your screen is at eye level so you head is in a neutral position. If you work at a laptop then consider using a laptop riser.
Elbows should have a 90-degree bend so that the tops of your arms are relaxed by your side, with your keyboard and mouse within easy and comfortable reach. Laptop users consider using an external keyboard.
Feet should be flat on the floor (use a footrest if they do not reach) and knees and hips should have a 90-degree bend.
Sit upright in a relaxed posture, using cushions to support your lower back if needed.
Take regular breaks – use this as an excuse to keep yourself hydrated.
Manage stress, depression and anxiety with self-care. Talk to your GP if you need help and consider other treatment methods such as acupuncture and counselling.
How can acupuncture help?
Acupuncture is great for easing pain. It is recommended by NICE for chronic pain, one of only four treatments recommended! Acupuncture is a safe and effective treatment, which uses slim, sterile and painless needles to gently encourage the body's ability to heal itself. Acupuncture treatments include massage, cupping and heat therapy such as moxibustion or heat lamps if appropriate. Each treatment lasts an hour, and a course of 6 treatments is recommended.
Want to find out more?
BY: Sunny Jaspal
Acupuncture / Conditions
Comments: No Comments
Natural ways to cope with the winter blues
As Autumn closes in and grey skies prevail, it seems appropriate to focus on light and how this affects our mood and health. We've all heard of the term 'the winter blues' but how many of us understand what this means?
There are many factors contributing to what is termed 'Seasonal Affective Disorder' by the medical community, a condition whereby an individual experiences depression in the colder winter months of the year.
Firstly, lack of bright light means that the production of melatonin and serotonin are limited, these are produced when light hits the retinas in our eyes, which then sends a signal to the brain. Serotonin is our feel good chemical and melatonin regulates our sleep rhythms. Therefore a lack of these chemicals will lead to low mood and problems with wakefulness.
Vitamin D deficiency can also lead to problems during the colder months, with vitamin D being absent through the sun's ray between the months of October to March, when they are not of the necessary wavelength to produce Vitamin D upon contact with our skin. An overwhelming 25% of the population are thought to be Vitamin D deficient, and recent studies are showing just how many systems in our body this can affect.
All of this poor lighting can leave you feeling depressed, stressed, anxious, lacking in energy and generally not your usual self. So what can you do to beat the blues? Below is list of suggestions that may help you feel brighter over this cold season…
Light therapy – Using a light box lamp is a good way to ensure you're receiving enough light for melatonin and serotonin production. They come in many shapes and sizes, and you'll need to ensure you find one from a reputable seller. Lumie light boxes are certified by the Medical Devices Directive and can be found at www.lumie.com. Watch out for the cheaper imitations which aren't bright enough to produce the desired effect.
Vitamin D supplementation – During the months of October to March when we don't receive Vitamin D from the sun it's a good idea to supplement, especially if you are deficient. Visit your GP to have your Vitamin D levels checked and think about supplementation
Acupuncture can be helpful for managing conditions such as depression and stress. Many of clients come for treatment due to these very problems and find acupuncture helps them to cope and feel better. Regular treatment is recommended to get you back on track.